Dr Vikram Ambalal Sarabhai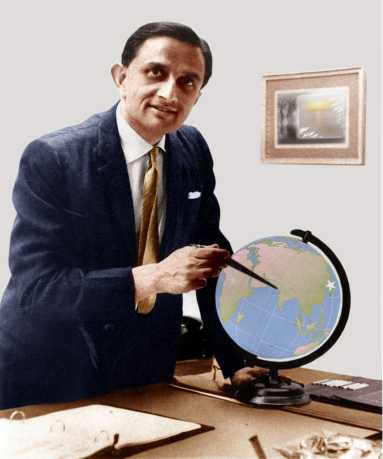 Countries have to provide facilities for their nationals to do front-rank research within the resources which are available. It is equally necessary, having produced the men who can do research, to organise task oriented projects for the nation's practical problems........
----Dr. Vikram Sarabhai
Vikram Ambalal Sarabhai, the Founder of PRL and a distinguished cosmic-ray and space scientist, is regarded as the Father of Space program in India. Vikram Sarabhai was born on 12 August 1919 in Ahmedabad. After his early education in Ahmedabad he joined Cambridge University, UK and took his tripos in Natural Sciences in 1940. He worked for his Ph.D. under the guidance of Nobel Laureate Sir C. V. Raman at the Indian Institute of Science, Bangalore. In 1947, he was awarded doctorate by the Cambridge University. On his return to India, Dr. Sarabhai founded PRL from where he continued his research activities. In 1962 he took over the responsibility of organising Space Research in India as Chairman of the Indian National Committee for Space Research (INCOSPAR). Dr. Sarabhai served as Director of PRL from 1965 to 1971 and Chairman of Atomic Energy Commission during 1966-1971.

Sarabhai was awarded the Shanti Swaroop Bhatnagar Award for Physics in 1962 and was honoured with Padma Bhushan in 1966. He was awarded Padma Vibhushan posthumously. He was associated with several national and international committees as member/ chairperson.