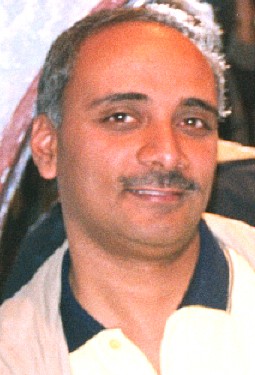 Phone: (+91) 79 2631 4505, 4610 (O);
(+91) 79 2686 0261 (R);

e-mail : jerry AT prl.res.in
---
Summary of Research Interests:
Solar Wind and Solar Radio Studies at Meterwavelengths:
My current research interests are centered around studies of the Solar Wind and Space Physics with emphasis on "Space Weather" studies using observations of Interplanetary Scintillation (IPS). In recent times, I have been actively persuing Solar Radio Astronomical studies via meter wavelength solar imaging observations carried out mainly using the Giant Meterwave Radiotelescope (GMRT) facility at NCRA,TIFR, Pune.
Further details on the topics bulletted below cane be obtained fron the "Research Interests" link in the left hand column at the top of this page.
IPS studies of the Solar Wind and Interplanetary Medium

IPS studies of the Solar Wind at High Latitudes.

VLA Imaging of Solar Flares and Compact Radio Sources.

Solar Imaging Observations with the Giant Meterwave Radio Telescope (GMRT).

IPS studies of Interstellar Scattering.

IPS and Emission Line studies of Cometary Ion Tails and Coma.

Very Long Baseline Interferometric (VLBI) Studies at 327 MHz.

Studies of H-alpha Emission Line profiles of Be Stars.




Future Plans:
Recent work on combining visibilities obtained from the GMRT and the Nancay Radio Heliograph in France have yielded solar images with extraordinary dynamic range. This method therefore provides one the possibility of studying faint features that occur along with bright energetic phenomena on the solar disk like flares and CME's and is being actively followed up. Future possibilities for a space based payload for space weather and coronal studies is being looked into.
Selected Publications:
Some selected publications are listed below. Publications from years 2011 onwards can be accessed via the "Recent Publications" link in the left hand column at the top of this page and similarly, a complete list of publications in refereed journals including IAU circulars published can be accessed via the "All Publications" link at the top of the page.