MAST
Small field
(3 arcmin) 50 cm Multi-Application Solar Telescope with 2m focal length
Imagers:
G-Band
H-Alpha
Guider
G-Band Imager
Telescope: MAST
wl: 4305A (10A)
FOV: ~2.5 arcmin
Camera:
PCO Imaging
H-Alpha Imager
Telescope: MAST
wl: 6563A (0.5A)
FOV: ~2.5 arcmin
Camera: Photonmax
Guider Imager
Telescope: MAST
wl: whitelight
FOV: Full Sun
Lens: Sigma 740 mm focal length
Camera: Prosilica
Celestron
20 cm Schmidt- Cassegrain Telescope with 2m focal length
Imagers:
Full Disk
Full Disk Imager
Telescope: Celestron
wl: 6563A (2A)
FOV: Full Sun
Camera: FLI
GONG
8 cm aperture lens with 1m focal length
Imagers:
H-Alpha
Full Disk
About Solar Eclipse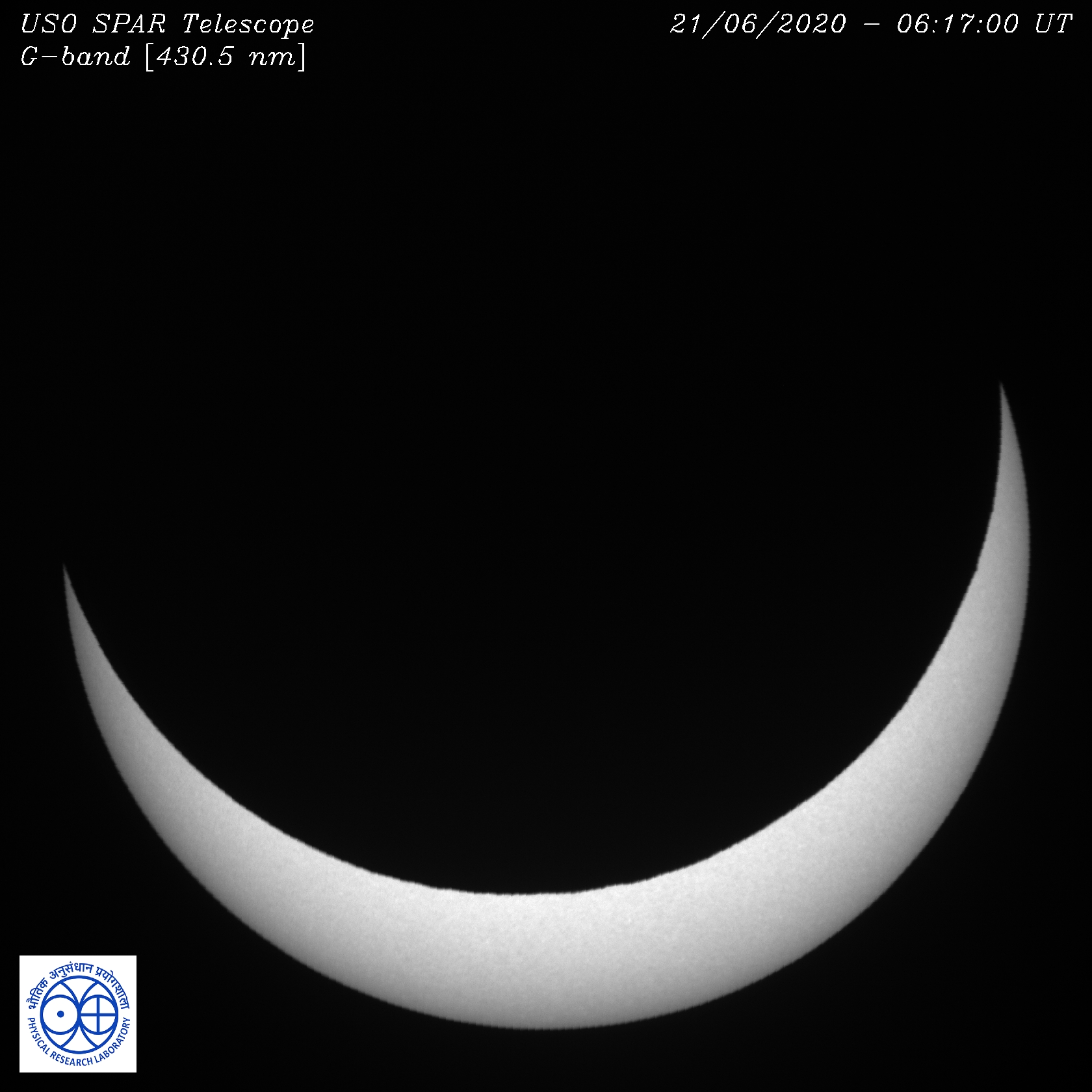 Solar eclipse is one of the fascinating sky-gazing events. Ever since its first observation, it has revealed many basic principles in Physics. With the advent of technology, we are able to track, record and predict this spectacular (amazing) event.
The last solar eclipse occurred on 26 December 2019 was annular and the event was recorded as a partial eclipse from the Udaipur Solar Observatory (USO).
We are going to observe the first solar eclipse of this year on 21st  June, which is also an annular eclipse. A solar eclipse is called annular when the moon does not completely occult the sun leaving an outer bright ring or annulus visible. A partial eclipse when the moon covers only some part of the Sun. In northern India, some locations will witness the annular eclipse.
Specifically, in Udaipur (24.58 deg N, 73.71 deg E), the eclipse will be a partial type. The eclipse will begin from 10:07 am (IST), peaks at 11:47am (IST) and ends at 1:36 pm (IST). Maximum magnitude of the eclipse will be 0.86 and the complete duration of the event will be 3 hours 29 minutes. At USO the eclipse observations will be carried out with the SPAR telescope, in full-disk format, the images will be updated on the PRL/USO website.
( https://www.prl.res.in/~uso/eclipse21062020/Eclipse_USO.jpeg ).
The partial eclipse images will also be recorded in H-alpha by the Global Oscillation Network Group (GONG) telescope installed at USO, Udaipur, the images can be viewed in at the following link.
( https://gong2.nso.edu/products/tableView/table.php?configFile=configs/hAlpha.cfg )